The Hive Mind
"The Hivefleet Devours"
 Welcome back to The Hive Mind everyone, this week I'll be discussing my performance at the Gladiator Games Team event that was run over the weekend in which my team managed to walk away with first place. Unlike the VTC write up, in this article, I will be walking through the general idea I had for tactics using this army, why I was confident I could compete with the force that is Drukhari, and the tools I used to get the job done and net our team some wins in unfavorable matchups. 
The Tyranids were again out in force and presented their second undefeated run, taking down some really strong meta archtypes. The list I ran can be found below.
Erik's List

Batallion Detachment: Hive Fleet Chad ( Kraken)

HQ:
The Swarmlord 270
– Catalyst, Paroxysm

Broodlord 125 (warlord)
– Mind Eater
– Barb
– psychic scream

Troops:
16 Stealers, scything talons, rending claws (240)
10 stealers, scything talons, rending claws (150)
10 stealers, scything talons, rending claws (150)
10 stealers, scything talons, rending claws (150)
10 stealers, scything talons, rending claws (150)
10 termagants (50)

Elites:
1 Pyrovore (28)
1 Pyrovore (28)
1 Pyrovore (28)

Genestealer Cults: Parol – Twisted Helix

HQ:
Patriarch (150)
– Familiar – The crouchling
– Mass Hypnosis, Might From Beyond, Mutagenic Deviation

Troops:
10 accolytes (130)
– 4 rocksaws
– cult icon

10 accolytes (130)
– 4 rocksaws
– cult icon

Fast Attack:

Scout Sentinel (35)
Scout Sentinel (35)

Dedicated Transport:
Goliath Truck (75)
Goliath Truck (75)
For the most part, I took the same concept that had worked really well at VTC a couple of weeks prior to this event and did a bit of fine-tuning to get the list in a spot I was happy with to complement our lineup and have all the tools I needed to handle some of the list builds I knew were coming. As this event was using the pre FAQ liquefiers they were likely going to be included in 100% of teams in attendance we needed at least one list in our lineup that we were confident could walk into these games and either come out the other side with a solid win or restrict the Drukhari's win as much as possible. We found most other teams would "feed" our Drukhari list and not try to stand up against it and we figured if we were able to build a list that could contest it, it would give us a massive advantage in the pairings. 
So first things first, let's break down the toolbox. Whilst this list may seem relatively lackluster on paper, in my opinion, it is one of the most frustrating archetypes to play against because of its ability to play extremely cagey or passively but always be posturing aggressively. The mobility of the Kraken stealers supported by their stratagems always poses a huge threat anywhere on the table, this is something your opponent needs to respect and be mindful of all game. Now the reason why that is so strong is not because you can always commit to a heavy alpha strike, but more because even if I walk into any given game with absolutely no intention of playing aggressively, my opponent still MUST plan as if I will, so what ends up happening, is the longer I hold onto these threats and avoiding any sort of commitment, the longer my opponent spends idle in their deployment zone or too scared to assert board control in fear of what the stealers might be able to launch in and kill, things like leaving key characters exposed, having small troop/chaff units unsupported sitting on isolated objectives. This forces my opponent to play much more passively than they may have intended because usually taking the wave of stealers to the face early leaves you plenty of time in the mid to late game to dig yourself out of any awkward situations, but if I initiate that in the mid-game you can most definitely just run out of turns to regain board control and take back the lead. So this most crucial element of this list is knowing when and where exactly to apply pressure and this concept changes drastically every game based on your match up, there is no generalized strategy on when and where you should be doing this, it can change due to something as small as a different character or relic choice between two different lists, it really is super important to not fall into the habit of having one general strategy for your army each game. You need to respect your opponent's list and what it is capable of and that should always make an impact on how you approach the game and playing what is considered an underpowered faction like Tyranids, you cannot afford to get this wrong. 
To complement the movement and board control advantage enabling Tyranids to be precise and effective at where and when they apply pressure, with the help of Paroxysm and their Genestealer Cult allies bringing Mass Hypnosis to the table you have two sources of making enemy units fight last, this is incredibly helpful in making sure when you need to do damage across a number of different units in one part of the table you can really plan it our efficiently, stopping things like the interrupt or preventing counter charge units from being effective really make it super oppressive if this army can catch out parts of your opponents' army isolated and unsupported. I don't think there was a single game where having two sources of fight last wasn't incredibly useful and I would almost never leave home without both. Not only do the Genestealer Cults bring the additional fight last spell but they also give the faction access to units and wargear that allow you to hit much harder than a genestealer would, especially into targets like multiple scrapjets, custodes or 2+ saves, which I happened to play against quite a lot of.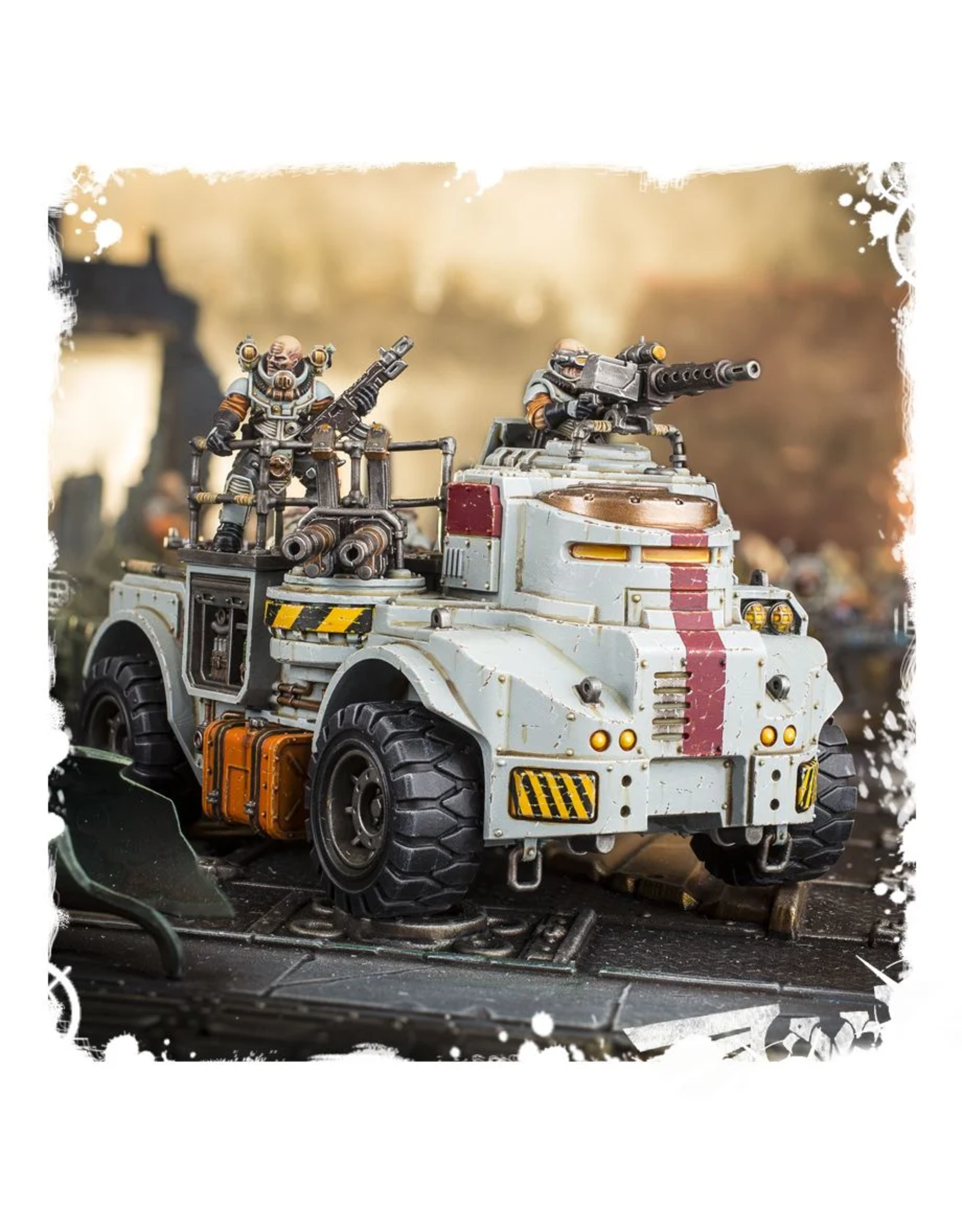 In this list I opted for Twisted Helix over The Four-Armed Emperor which I was running in my list for VTC, this was for a number of reasons. To start with it boosts the hitting power of the acolytes without the need for things like might from beyond but more importantly, ties in really well with the speed of the Kraken stealers, having two 10 man rock saw units I could slingshot out of Goliath Trucks was super handy, again for presenting yet another threat in the early stages of the game, but also having the movement to apply pressure mid to late game if I was conserving those threats in the early stages of the game. That brings me to the trucks, historically I have looked at these units as far too expensive for what I'm likely to get out of them, however, in this event they were truly handy for parking on objectives and carrying obsec bodies, making it awkward to dig them out especially when making the most of obscuring terrain, as well as enabling me to slingshot out the acolytes into favourable combats and just be an escort for the acolytes to safety take up a dominant mid-board presence. I can certainly see these making an appearance in most of my Tyranid/GSC lists in the future, especially while a lot of armies stay MSU and combat heavy which struggles to deal with transports effectively. 
Most people before VTC and this event were not convinced this list could go toe to toe with Drukhari so naturally, this was some sort of challenge, I'm not going to sit here and say this archetype EASILY beats Drukhari because it was not like that at all, It's an incredibly difficult game but it most definitely has the tools to get the job done. It does that in a number of ways. For the most part, I have more speed than a drukhari army, especially when they are forced out of their boat, though despite what people may think this is not done by investing all your resources in killing their transports, the strength in this army really lies in its ability to play passively but always be posturing aggressively. Now, this doesn't seem like much at face value, but the impact this has on how your opponent wants to play their game is truly monumental. Playing against this you need to constantly consider what happens if the stealers do launch themselves in, what are they threatening at any given time and how can you protect yourself from that, but by extension, you are naturally playing slightly more conservative to protect those assets which may all well be for nothing if the player piloting the stealers remains passive. In my mind this style has serious potential in almost any metagame purely based on how the primary aspect of the game currently works, forcing people to bolster and insulate objectives with more resources than they normally would really change how they approach the game and how much they can afford to commit to trying to bully the stealers list. 
Moving forward, I'm convinced this archetype has a place in the game right now and can compete with any of the "strongest" builds currently coming out of all the new codexes. The beauty of Tyranids is how deep they are in regards to various tech choices you can include, even with how hard they can be to include in a list or execute on the table they really do have an answer for any meta and still hold the key to 9th edition through their mobility. In the coming weeks, I'm planning to test out some pretty janky Tyranid builds that are yet to be explored in the current edition, so exciting times ahead, stay tuned!